Susan M. Cheyne and the other primate scientists at Borneo Nature Foundation (BNF) have recently lighted up the unusual behavior of red langurs (Presbytis rubicunda) that are spotted to come down to the forest floor.
Contrary to common belief, this endemic primate of Borneo is scarcely found to venture the forest floor as it spends most of its time leaping rapidly from one tree to another. In addition to that, some findings also suggest that red langur is less known to plunge on the ground.
Although some reports have shown P. rubicunda activities on the ground on camera traps, very little portion has been given to further study about their behavior. This has then backgrounded the motivation of the primate team to find out what behaviors are associated with the ground use of  Kelasi (local name for red langurs).
To achieve that goal, the team carried out observations and studied  remote observations using camera traps that were set up for 30-160 days at the eight sites of the forest areas in nearly two-year-long research. Out of those spots, the team found unique behavior of Kelasi at six of the surveyed areas.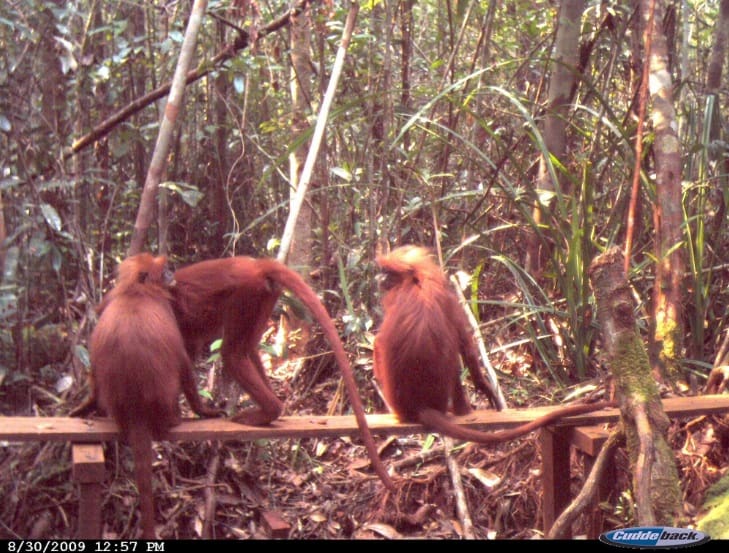 The findings reveal at least three aspects of Kelasi behavior while on the ground. First, red langurs tend to come to the ground in disturbed forests that have been impacted by logging, fire, and hunting. Second, this close relative of the Old World monkey shows particular trends of ground use; feeding and traveling. And third, a group of
Kelasi
 were found on the forest floor throughout the day while the 'big cat' – Sunda clouded leopard – ramble in the forest areas.
The abovementioned findings have been attributed to socio-ecological factors such as food acquisition and aggression avoidance, and/or the anthropogenic effects of habituation to observer presence and habitat disturbance.
This rousing research article has now been included in Primates' book chapter (July 2018) by Springer Nature with the title Down from the treetops: red langur (Presbytis rubicunda) terrestrial behavior. The publication is added to a collection of BNF's successful stories on primate research that is expected to provide the insights on existing literature of this charismatic creature.
The publication can be accessed in a full-text view-only version on the link below: